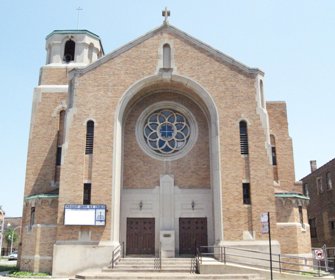 PLEASANT GROVE
MISSIONARY BAPTIST CHURCH
"The Friendly Church Where Jesus Is The Cornerstone."
Pleasant Grove Missionary Baptist Church History
The Pleasant Grove Missionary Baptist Church started out as a small church located at 2916 South Wentworth Avenue in 1951. At the time, the church was known as The Greater Dependable Missionary Baptist Church, Reverend Palmer served as pastor. The Greater Dependable Church merged with The Friendly Missionary Baptist Church following the departure of Reverend Palmer. Reverend B. Williams served as pastor, and Reverend W.D. Kirkland was the assistant pastor. The name of the church was changed to encompass both churches; it was changed to The Friendly Dependable Missionary Baptist Church.
Official Board included the following members:
Deacon Dave Harding, Chairman
Deacon Richard Schaffer, Co- Chairman
Deacon Robert Bailey
Deacon Jacob Davis
Deacon Gale
Deacon Henry Goldsby
Deacon Alvin Harris
Deacon Isaac Matthews
Deacon Mitchell
Deacon Frank Reynolds
Deacon Aaron Ward
Deacon Rankin Ward
Deacon Van Wilkerson
Shortly after the merge Reverend Williams left the church. Reverend W.D. Kirkland was elected pastor, and the church relocated to 2727 South Wentworth Avenue. The name was changed to Pleasant Grove Missionary Baptist Church, and shortly thereafter, the church moved to a larger edifice at 122 East 26th Street. On September 9, 1951, Pleasant Grove Missionary Baptist Church recorded its official charter with the state of Illinois.
The Lord continued to bless us. As our membership grew it became necessary for us to seek a larger edifice. After prayer and the direction of the Holy Spirit, the church purchased the property at 2857 West Lexington Street. On April 1, 1960, we proudly moved in. God continued to bless us at that location, on July 30, 1976 our church was completely paid for.
Improvements were made on both the interior and exterior of the building, along with many other accomplishments. Under the leadership of Rev. W.D. Kirkland, the following ministries were organized:
Baptist Training Union
Beautifying Club
Boy Scouts
Eastern Star Chapter
G. Kirkland Birthday Club
Girl Scouts
Masonic Chapter
Mission Department
The Mission department became stronger as more members became active participants. Rev. W.D. Kirkland served as pastor for (30) thirty years until his health failed in 1980. On October 2, 1981 the Lord called him home. For those who knew Rev. Kirkland will remember him as a wise, loving, charismatic pastor who loved the Lord and his congregation.
We were without a pastor yet again. A search committee was formed and on August 24, 1982, we were blessed with Reverend Michael Runnels as our pastor. During the thirteen years Pastor Runnels was with us the following ministries were organized:
Bereavement Ministry
Crossroads Correctional Prison Ministry
Family & Friends Ministry
Freedom Flyers Prison Ministry
Homeless Ministry
Mayors Summer Job Program
New Member Training
Nurture for Baptist Churches
Scholarship Program
Street Evangelism Ministry
Substance Abuse Support Ministry
The Men's Fellowship
Youth Ministry
The continued growth of the ministries resulted in need of a larger edifice. After years of prayerfully seeking where God would have us relocate, Gods' answer was STAY IN THIS COMMUNITY. On August 10, 1994 we were blessed with our new edifice; 741 South Sacramento Blvd. We joyfully marched into this facility on Sunday, August 20, 1995, our 44th Year Anniversary celebration.
Reverend Runnels was a great leader and he did a tremendous job through his determination and perseverance, our church grew both financially and spiritually. God had other plans for Pastor Runnels on December 31, 1995, he resigned as our pastor.
A search committee was organized in May 1996 to seek a new leader. On March 2, 1997 after months of prayer and fasting, interviewing and resume reviewing, Reverend Charles A. Hamilton was selected as our new pastor. He is a God sent man with a vision on fire for Christ. We've had numerous accomplishments under his leadership six new Deacons, and two new Trustees, installed a chairlift, an air conditioning system, seat cushions for the sanctuary, purchased a new van, and had the parking lot repaved. The following ministries were organized:
Book Club
Computer Lab
Food Program
Male Chorus
Month Club Ministry
Reorganized Media Ministry
Reorganized Youth Department
Revised Mission Ministry
Tutoring Program
We were blessed to have a faithful original member, Mother Dee Etta Wilkerson until her work here was done on May 16, 2007.
We pray that God continue to bless Pleasant Grove Missionary Baptist Church.
SERVICE TIMES:
SUNDAY SCHOOL
9:00AM
SUNDAY MORNING WORSHIP
11:00AM
WEDNESDAY PRAYER MEETING/BIBLE CLASS
7:00PM